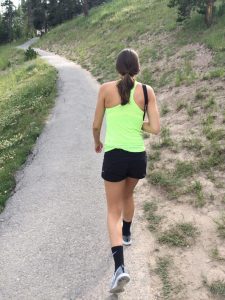 The first day of spring is March 20th, which is quickly approaching and I could not be more excited. Spring always puts me in a great mood.
I live in the Northeast and luckily this winter hasn't been too bad, but I'm ready for warmer weather, sunshine, and fresh produce from my neighbor's garden. I don't have my own vegetable garden, but it's something I'm thinking about starting.
Spring is a great time to step up your strategies to help you reach your health and fitness goals. The warmer weather keeps you motivated and gives you a way to switch up your exercises. If you normally exercise indoors, now is the perfect time to experiment with outdoor activities you enjoy.
Here are 5 outdoor activities to get you started:
Go for a walk. Now that the weather is starting to warm up, a walk is the perfect way to get in exercise. Try going for a 15-minute walk either in the morning, during lunch, or after dinner. Bring a friend, your kids or significant other to make it more enjoyable.
Start a garden. If you already have a garden, I'm sure you have started to get ready for this year. If you don't have one, now is the time to plan out what you want to grow! A garden is a relaxing activity that will also give you fresh produce!
Take a hike. Hikes are a great way to explore a new area while still enjoying exercise. Remember, not all hikes are equal. You can go for a hike on a path that is or isn't steep, it's your choice!
Enjoy a bike ride. Unlike other forms of cardio, a low-to-moderate intensity bike ride does not feel like cardio!   Enjoy biking for exercise or as your form of transportation to and from work, school and your daily errands.
Play one round of golf. Golf is a fun, outside sport that can be enjoyed by almost anyone. You do not have to be a pro to play! If going to a golf course is intimidating, head over to a miniature golf course where you can have lots of fun and maybe even a few "holes in one"!
I am encouraging you to enjoy the beautiful outdoors and not to get stuck in a rut by only exercising indoors. The warm weather, sunshine and smiling happy people who are also outside being active will inspire you to keep on moving!
Your Turn to Take Action: What's your favorite springtime activity? Let me know in the comments below!
Like this post? Share it!
http://brghealth.com/brg/wp-content/uploads/2017/03/image001.jpg
1024
768
Bonnie R. Giller
http://brghealth.com/brg/wp-content/uploads/2017/12/BRG_Headerwpic_2.png
Bonnie R. Giller
2017-03-13 09:00:23
2017-03-09 18:05:30
Jump Start into Spring!