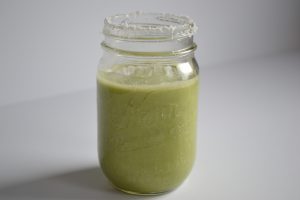 Today is St. Patrick's Day!  What comes to your mind when you think of St. Patrick's Day?  Probably corned beef and cabbage, soda bread, and food dyed the color green such as green bagels, green muffins and green cupcakes.
Holidays have a tendency to put your commitment to a healthy lifestyle to the test.  Luckily I am here to show you how easy it is to put a healthy green twist on your traditional St. Patrick's Day.
4 Green Fruits and Vegetables to Eat Today:
Green Leafy Vegetables. Fill your plate up with vegetables, such as spinach, collard greens, kale, and broccoli! They are rich in many antioxidants, such as:
Beta-carotene, which benefits vision, skin and bone health, as well as the immune system.
Lutein and zeaxanthin, which help with eye health, as well as cancer and heart health.
Indoles, which have anti-cancer properties.
Avocados. Add avocados to your salad or spread on toast with eggs. They provide:
Monounsaturated fats, which are heart healthy.
Lutein and zeaxanthin, which promote eye health.
20 different vitamins and minerals, specifically rich in vitamin K, which promotes bone health.
Green Apples. Snack on a green apple with all-natural peanut butter. They are filled with:
Quercetin, which has anti-inflammatory and anti-cancer effects.
Fiber, which helps keep your digestive tract clean and keeps you full for longer.
Artichokes. Cut up a fresh artichoke as a side to your dinner. They are rich in:
Polyphenols, which have chemo preventive qualities
Quercetin and rutin, which have anti-cancer effects
Lutein, just like avocadoes, which promote eye health.
Add more GREEN to your St. Patty's day meal with these tips:
Spinach pancakes for breakfast
A potato scone topped with green peppers and onions for breakfast
Add sliced avocado to your turkey sandwich for lunch
Colcannon made with kale and leeks which go great with your corned beef dinner (for those who don't know, colcannon is a traditional Irish dish mainly consisting of mashed potatoes with kale or cabbage)
Green beans and peas can be added to Irish Beef Stew
Spinach and artichoke dip with green tortilla chips as an appetizer
A fruit salad filled with grapes, kiwi, honeydew and green apples for dessert
A tossed salad filled with green onions, green peppers and cucumbers as an appetizer or meal
Green Smoothie
Try this delicious hidden GREEN veggie smoothie:
Blend and enjoy!
Your Turn to Take Action:  How will you celebrate St. Patrick's Day?  Let me know in the comment section below!
Like this post? Share it!
http://brghealth.com/brg/wp-content/uploads/2017/03/green-smoothie.jpg
3072
4608
Bonnie R. Giller
http://brghealth.com/brg/wp-content/uploads/2017/12/BRG_Headerwpic_2.png
Bonnie R. Giller
2017-03-17 09:00:54
2017-03-13 11:06:18
Make Your St. Patty's Day GREEN