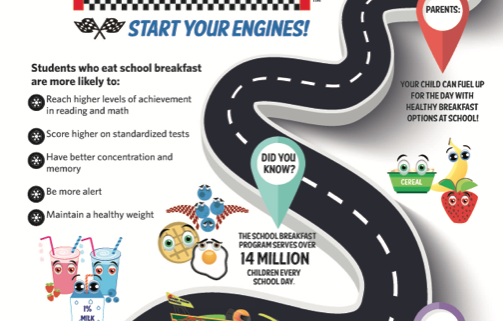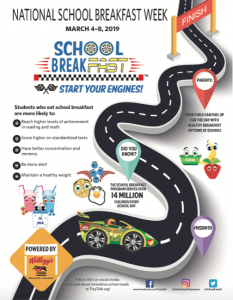 Celebrate the "most important meal of the day" all week long in honor of National School Breakfast Week (NSBW)! Starting today through March8th, schools nationwide will be taking part in observing this year's NSBW with the theme Start Your Engines with School Breakfast. This year's theme was chosen to emphasize the importance of starting the day off with foods that fuel!
Benefits of Breakfast
When your child starts his or her daywith a nourishing breakfast, they'll start their entire day right! After 8 (or more)hours of sleep, breakfast provides their bodies with the energy they need to start the day.  Along with providing energy, breakfast also has the following benefits:
Better performance on tests
Mood improvement
Fewer behavioral problems
Helps them stay alert
Improves ability to pay attention
Nowadays, many schools offer programs that provide free breakfast to children before school starts. However, if you have the time in the morning, sitting down and eating breakfast with your child before school may serve as a bonding experience. Just know, no matter where your child has breakfast, it will still start their day off right!
3 Fun Breakfast Ideas for Kids
Many of you may or may not know this, but I have 4 kids of my own.  Even though they are all grown now, I can still remember our breakfast struggles. I have learned through my own experiences, as well as from clients, that the best way to improve a child's acceptance to breakfast is to make it fun!
Smiley Face Pancakes– Make a traditional pancake and garnish it with strawberries as a mouth and blueberries for eyes. For added fun, have your child craft his or her own face with assorted fruits.
Breakfast Popsicle– Using a dulled wooden skewer, slide on cut up bananas, berries and other yummy fruits. You may even want to include cut up slices of French toast between all the various fruits.
Bear-y Cute Toast– Take a slice of toasted bread and place a dollop of peanut butter on it in the shape of a heart. Then take bananas and make a nose and ears. Finally use raisin for the eyes and nose.
If your mornings don't allow for a sit-down breakfast, there is always the option for grab-and-go meals! If you're looking for a no-work option – pick up ready-to-eat oatmeal for your child to eat on the way to school. If you have a few minutes, prepare half of a pb&j sandwich (1 slice of bread) with a piece of fruit on the side!  No matter what you choose,the important thing is making sure your child eats before a long day of class.
Your turn to action:What is one breakfast you are going to make for your child this week? Let us know in the comments below.
Like this post? Share it!
http://brghealth.com/brg/wp-content/uploads/2019/03/Screen-Shot-2019-02-26-at-8.44.22-PM.png
649
504
Bonnie R. Giller
http://brghealth.com/brg/wp-content/uploads/2017/12/BRG_Headerwpic_2.png
Bonnie R. Giller
2019-03-04 09:00:44
2019-02-26 20:45:47
Start Your Engines for National School Breakfast Week