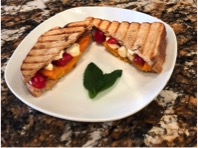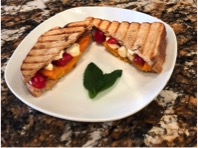 It's everyone's favorite time of the year, summer! I am ready to spend as much of my day as possible outside and I'm sure you feel the same way! As you start to spend more time outside, are you thinking about what simple on-the-go meals you can take with you? Me too.  One of my favorite summer on-the-go meals is a sandwich!
The best part about a sandwich is that it can be eaten at any time of the day and they are for every age group. You can put anything you want on them.  There are so many ways you can get creative for all of your summer adventures!
Sandwich Ingredients
A sandwich can be made up of almost anything that you want, but here are a few staples to keep in mind if you're feeling stuck!
Bread. Opt for whole wheat bread, wraps or rolls, which will provide you with fiber that keeps you feeling fuller for longer.
Protein. This will likely be the "bulk" of your sandwich and there are so many options to choose from! If you choose meats, opt for lean choices like turkey and chicken breast and choose low-sodium cold cuts. There are also vegetarian options like peanut butter, eggplant, hummus, beans, tofu and fish. You can also make egg or tuna salad!
Veggies. Veggies are the "filling"; they add a ton of important nutrients and fiber! Avocado is a fan-favorite and adds healthy fats. Roasted red peppers add more flavor and antioxidants. Cucumbers and red onions add a delicious crunch. Arugula adds a little bitter, but enjoyable taste. You can pretty much add whatever vegetable you want!
Cheese. If you're adding cheese to your sandwich, choose low-fat. A slice of Swiss or fresh mozzarella can really boost the flavor of any sandwich!
Spread. What's a sandwich without the spreads, right? Opt for low-fat mayo and dressings and aim to use more avocado, hummus or vinaigrettes!
5 Fun, Delicious Sandwiches
There are so many ways to make the perfect sandwich, so you really can't go wrong!!  Get creative and switch up the protein and toppings so you don't get bored of the same thing every day.
Whole wheat veggie sandwich.On whole wheat bread add sliced tomatoes, fresh mozzarella, basil leaves, and roasted peppers. Sprinkle some balsamic vinegar on top.
Tuna salad avocado wrap.Use avocado in your tuna salad wrap in place of mayo for a delicious twist!
Grilled veggie Panini.Toss some grilled zucchini, eggplant and squash on a bread of your choice and top with peppers and fresh mozzarella. Let cook in the Panini maker until the cheese is melted and the bread is darkened. Yum!
Peanut butter and jelly.Ah, nothing beats this old-school sandwich! If you're looking to spice it up a little bit, add a few slices of banana for added sweetness!
Turkey and Swiss whole wheat pita. Stuff a whole wheat pita with thinly sliced, low-sodium turkey and Swiss and top with arugula, tomatoes and avocado. Spread a little raspberry vinaigrette for added flavor!
Again, don't be afraid to get creative with your sandwiches! They can be hot or cold, breakfast or lunch (even dinner) sandwiches. There is no wrong way to make a sandwich.
Your Turn to Take Action:What kind of sandwich will you make for your first summer adventure?  Let me know in the comments below!
Like this post? Share it!
http://brghealth.com/brg/wp-content/uploads/2018/06/sandwich.jpg
148
198
Bonnie R. Giller
http://brghealth.com/brg/wp-content/uploads/2017/12/BRG_Headerwpic_2.png
Bonnie R. Giller
2018-06-29 09:00:43
2018-06-27 14:39:46
Sun, Summer, Sandwich!