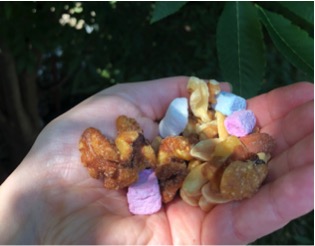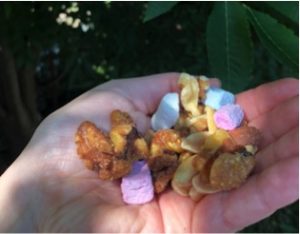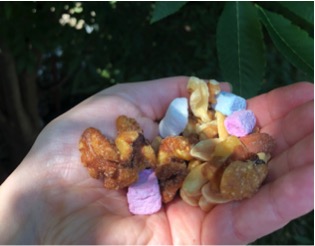 Now that the heat of the summer is beginning to break, it has become the perfect time to get out and enjoy some local nature trails. A simple Google search will reveal wonderful state and local parks in your area that were previously undiscovered. Take time this September to explore new hiking trails in your area or revisit old favorites. However, don't forget to fuel up with plenty of water before you go and pack a healthy snack to eat along the way!
Trail Mix is a great addition to any hike or walk- it's easy to carry and does not need to be refrigerated. It can also be full of plenty of tasty goodies; just because you're eating food on-the-go doesn't mean that it can't be healthy. While Trail Mix from the store is often packed with added sugars and candy, homemade Trail Mix can be a healthy and a well-balanced snack!
5 Tips to Making Your Own Trail Mix
1. Choose nuts that are unsalted or lightly Buying nuts that are already salted are very high in sodium. By buying them unsalted or lightlysalted, will help you lower your sodium intake.
2. Mix in seeds.Adding seeds like hemp, flax, pumpkin and sesame will bring more flavor to your trail mix and added nutrition! Seeds are a good source of many vitamins and minerals.
3. Add whole grains. Whole grains are a great option because they are full of vitamins and minerals, such as zinc, magnesium, and fiber. They will also keep you feeling fuller for longer.Try adding whole grain cheerios or chex, pretzels, whole wheat crackers, granola or air popped popcorn!
4. Mix in dried fruit. To add some sweetness to your trail mix, add in some dried fruit like raisins or cranberries! Just be aware that you only need a little bit as dried fruit is much more concentrated than regular fruit!
5. Top it off with dark chocolate or peanut butter chips.If you have a little bit of a sweet tooth, try topping off your trail mix with some dark chocolate. Dark chocolate is higher in antioxidants and will still satisfy your sweet tooth!  You can also add peanut butter chips for added flavor.
What makes trail mix such a great snack is that you can make it exactly how you like it. Don't like cashews? No problem! Add pecans instead. Raisins are not your "thing"? Add in dried apples instead. The possibilities are endless.
More Trail Mix Ideas
Are you looking for a fun way to spice up the "traditional" trail mix? Check out the combinations below for some trail mix fun!
Dried banana, peanuts, cashews, chocolate and peanut chips
Raw almonds, chocolate covered raisins, hazelnuts and dried pineapple
Popcorn, dried peaches, sunflower seeds and almonds
Pecans, craisins, pistachios, raisins, pretzels and dark chocolate chips
Granola (low fat), cashews, craisins, sunflower seeds and dark chocolate chips
Pumpkin seeds, dried apple, pecans, walnuts and cinnamon
Chex cereal, cheerios, dark chocolate covered blueberries, cashews, raisins
Now hit the trails with your mix and have a great time in the wonderful outdoors. Enjoy your time outside while you can!
Your turn to take action: What is your favorite way to make Trail Mix? Let me know the list of your ingredients in the comments below!
Like this post? Share it!
http://brghealth.com/brg/wp-content/uploads/2018/08/trail-mix.jpg
246
315
Bonnie R. Giller
http://brghealth.com/brg/wp-content/uploads/2017/12/BRG_Headerwpic_2.png
Bonnie R. Giller
2018-08-31 09:00:57
2018-08-15 20:26:31
Time to Celebrate National Trail Mix Day