How many times have you used the word "willpower" when you've been on a diet? "I wish I had more willpower not to eat the cake". "Why can't I just have the willpower to say NO?" I am NOT going to eat the chocolate, no, no, no! I must have the willpower!"
How has this strategy of willpower worked for you?
I bet it's worked for a short time, but inevitably when you try to "will" yourself to not eat something that you really would love to eat, you break down and eat it. The only problem now is that you just don't have one piece of cake or chocolate, you have many.
There is no place in intuitive eating for the word "willpower".
I explain more in the video below. Just click and watch. Then post your comments below the video and/or right back here.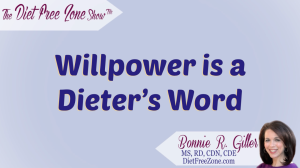 Like this post? Share it!
http://brghealth.com/brg/wp-content/uploads/2015/04/Willpower.png
807
1440
Bonnie R. Giller
http://brghealth.com/brg/wp-content/uploads/2017/12/BRG_Headerwpic_2.png
Bonnie R. Giller
2015-04-29 10:00:44
2015-04-29 14:52:20
Willpower is a Dieter's Word