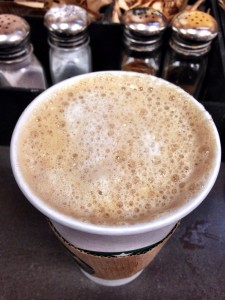 Is there anything better than warming up with a hot drink on a cold winter day? From hot chocolate to coffee to tea, there is an endless supply of warm drinks to cozy up with during these cold winter months. You can add twists to old favorites or keep it simple and stick with the basics, like coffee and tea. And, you don't need to head out to the coffee shop – you can make them right at home!
5 Hot Drinks You Can Make at Home
Hot Lemon Water: There is nothing like a simple, yet delicious drink to warm you up. The beauty is in the simplicity with this one. Just boil some water, juice a lemon and mix together in a mug! You can even add some ginger or cinnamon for a fun twist. The fresh lemon can help add some immune boosting vitamin C to your morning, and adding some ginger may even aid in digestion!
London Fog Tea: This drink doesn't only have a fun name, but comes with a boost of caffeine! Steep 1 to 2 bags of earl grey tea in water, then add almond milk (about double the amount of water you have) and blend. Add a little bit of honey and vanilla for a slightly sweeter taste, and viola! This tea will give you a boost of caffeine to get your day started along with a healthy addition of protein.
Homemade Hot Chocolate: Who doesn't love a delicious cup of hot chocolate after a long and cold day? A few twists on the old classic can turn this drink into a nutrition powerhouse. Try cocoa powder instead of milk chocolate. The cocoa will add a healthy dose of heart healthy antioxidants! Simmer 1 cup of cow's milk or almond milk on low heat for 1 to 2 minutes, then mix in 1 to 2 tbsp. of cocoa power, whisk and enjoy!
Apple Cider and Cinnamon: Does anything bring you back to your youth like a delicious cup of warm apple cider? You probably didn't realize when you were young just how nutritious this delicious beverage really is! Apple cider is naturally loaded with immune boosting vitamin C.
Although apple cider alone is great, adding some cinnamon can help bring this drink to the next level. Try warming your apple cider in a pot and let simmer for 1 to 2 minutes. Poor into a mug, and mix with ground cinnamon or add a few cinnamon sticks and enjoy! Cinnamon can help keep your blood sugar levels in check while adding a fantastic taste to your drink.
Cinnamon Coffee: Here's a twist on an old favorite! Mix milk and water together and bring to a boil. As the mixture starts to boil, add coffee powder. Bring it back to a boil and then take the mixture off the heat. Mix in the cinnamon and, viola! You now have a delicious cup of joe with the health benefits of cinnamon. YUM.
Whatever hot drink you choose to drink, I hope it keeps you warm!
Your turn to take action: What hot beverage is your favorite? Let me know in the comments below!
Like this post? Share it!
http://brghealth.com/brg/wp-content/uploads/2014/09/Coffee.jpg
3264
2448
Bonnie R. Giller
http://brghealth.com/brg/wp-content/uploads/2017/12/BRG_Headerwpic_2.png
Bonnie R. Giller
2018-01-29 09:00:23
2018-01-21 20:05:03
5 Hot Drinks to Keep You Warm this Winter