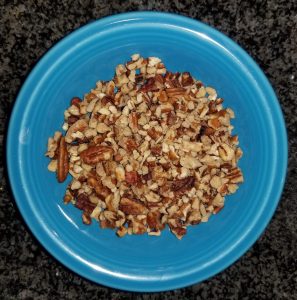 This Sunday, March 25th is National Pecan Day! If you love pecans, then you're not alone! Lots of people go nuts for pecans.
Did you know that pecans are technically drupes and are in the same family as plums, peaches, cherries and olives? The difference is with these drupes, the pit in the center of the fruit is the best part!
The Beginning of the Pecan
Wild pecan trees are native to North America and the pecans themselves were traded by Native Americans. Pecans were a popular food item due to how easily they were found by scavenging fruits whose shells weren't cracked. If the shells were still intact, that meant they weren't spoiled and still edible for long periods of time. Modern pecan trees were cultivated in the 1800s and pecan trees can continue producing fruit for 300 years.
Pecans grow best in warmer climates where the summers are long, hot, and humid, which is why they are common in southern states like Georgia, New Mexico, and Texas. Those states produce 75% of the pecans in the United States, and the US and Mexico together produce 95% of the worlds pecans.
Nutritional Diversity
Since nuts and seeds are a plants way of reproducing, they are typically packed full of nutrients which help the seed sprout into a healthy plant; thus, continuing the family tree. In addition to being an excellent source of monounsaturated fats, pecans are also good sources of:
Thiamin – The first of the B vitamins, thiamin is critical in your body's energy production and offers support to your central nervous system during brain development.
Vitamin E – This vitamin is also considered an antioxidant, meaning it protects your cells from damage caused by an unwanted interaction. It also helps protect against heart disease.
Manganese – This mineral is needed for optimal bone health, proper blood clotting, and in creating various hormones in your body. It is also needed for collagen production, which is the main structural component of your skin.
3 Ways to Enjoy Pecans 
Pecans are probably best known as the main ingredient to the southern staple, a pecan pie, but pecans aren't just for desserts!
1. Pecan and coconut crusted halibut. Adding pecans to your dinner is a great way to provide a nutritious crunch to flaky white fish. Mix ground pecans and shredded coconut in a shallow bowl, dip fillets into whisked eggs, then into the pecan/coconut mixture. Put into the oven to bake until cooked through!
2. Chicken salad with pecans. Mix shredded chicken, chopped celery, sliced red grapes, and pecan pieces with plain nonfat Greek yogurt. Serve over a bed of greens or on crusty multigrain bread.
3. Pecans and hot cereal. Whether it's oatmeal, kasha, or farina, you can enjoy pecans with your breakfast. Add them to the cereal while it's cooking, along with currants, a sprinkle of brown sugar, and a little cinnamon. They're a great way to add a bit of crunch.
Pecans are a great way to add a bit of flair to your usual recipes. There's no better time than National Pecan Day to start cooking!
Your turn to take action: How will you incorporate pecans into your favorite recipes? Let me know in the comments below
Like this post? Share it!
http://brghealth.com/brg/wp-content/uploads/2018/03/20180323_052331-1.jpg
2903
2874
Bonnie R. Giller
http://brghealth.com/brg/wp-content/uploads/2017/12/BRG_Headerwpic_2.png
Bonnie R. Giller
2018-03-23 09:00:41
2018-03-25 17:04:49
Are You "Nuts" for Pecans?