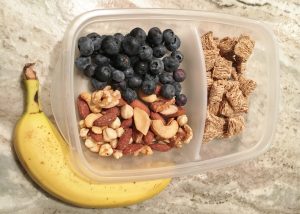 As summer winds down and the season begins to change, it's a great time to look ahead and prepare for the upcoming school year. A large part of feeling great and sticking to foods your body loves is being prepared when hunger hits. Whether you are sending your children off to school, or attending classes yourself, having snacks on hand is a great way to stay focused on your learning instead of your hunger.
The Benefits of Snacking
Maintain energy levels – I'm sure you've heard of (and maybe felt) the dreaded afternoon energy crash, but what do you know how to prevent it? Having an afternoon snack can be a great way to avoid the desire to snooze in class. Keeping your body sufficiently fueled is imperative for optimal functioning and performance, whether it is inside the classroom or even after school on the sports field.
Improve Concentration – Snacking can do more than just ward off hunger pangs. It can also help to increase your focus, allowing you or your child to concentrate on learning instead of rushing to lunch period or home for dinner.
Keep meal times consistent – By snacking on breaks during school, you are able to sustain yourself between meals. The school day can be very hectic, and it is important that your body is properly nourished throughout the day and not just at mealtime. Snacking prevents hunger from becoming too strong, which can lead to making less than ideal meal choices at lunch or dinner.
Increase fruit and vegetable intake – A great reason to snack is to ensure that you are getting an adequate amount of fruits and vegetables. Sometimes it can be difficult to fit these into meals throughout the day, so having these as a snack is a great way to make this successful.
4 back to school snack options:
Celery with peanut butter and raisins – This old-time favorite is still an excellent choice that's full of protein, potassium, and energy boosting B vitamins.
Apple slices with walnuts – This fiber packed combination will keep you fuller longer than just reaching for a bag of chips. Plus, it's loaded with protein and antioxidants, for an extra heart healthy benefit!
Carrots and hummus – This combination is packed with eye healthy vitamin A, as well as magnesium which helps to keep blood sugar levels stable.
Greek yogurt with fruit and granola – If you have an insulated lunch bag, this is an excellent snack choice. The protein from the Greek yogurt will help you to feel fuller longer, as well as provide probiotics to aid in digestion. Top this with your favorite fruit, such as blackberries, blueberries, or strawberries!
Keep in mind that it's best to choose snacks that include more than one food group to ensure that you are getting a variety of nutrients with each bite. Always remember to be creative! Snacks can be fun and nutritious at the same time.
Your turn to take action: What are your favorite snacks to pack for yourself or your family? Let me know in the comments below!
Like this post? Share it!
http://brghealth.com/brg/wp-content/uploads/2017/06/healthy-summer-snacks.jpg
2738
3834
Bonnie R. Giller
http://brghealth.com/brg/wp-content/uploads/2017/12/BRG_Headerwpic_2.png
Bonnie R. Giller
2017-08-25 09:00:28
2017-08-09 07:54:46
Back to School Snacks