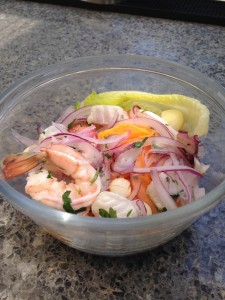 What better way to cool off this summer than with a cool and refreshing Ceviche! This Wednesday, June 28th is National Ceviche Day.   Ceviche is not only fun to say, but if you haven't tried it yet, it might just become your "go to" food this summer!
Ceviche is a dish that is of growing popularity here in the states but has been a staple of coastal Southern American cuisine for thousands of years. Ceviche is said to have started in Peru and eventually found its way into Mexican cuisine roughly two centuries ago. It is served in a variety of ways depending on the region that you are in, but Ceviche always consists of raw fish marinated in citrus juice. Because the fish is raw, only the freshest ingredients are used and much care goes into the preparation of this delicious and refreshing dish.
What Is Ceviche?
Ceviche is traditionally prepared using raw seafood and is cooked with a citrus fruit juice such as lemon or lime juice. It is then garnished with herbs such as cilantro, and may be accompanied by sliced onions, avocados or chili peppers for an added spice.
When ceviche is served as a main dish, it is often paired with plantains, sweet potatoes or tortilla chips that are used to scoop the ceviche like a spoon. Mexican and American ceviche is sometimes served as a "cocktail" and is served in a martini glass and served with chips as an appetizer!
Preparing Ceviche
Ceviche can be a little tricky to make at first, but once you get it down, it is sure to be a favorite at any BBQ you go to this summer! It is light, refreshing and delicious so be sure to keep trying, I promise it will be worth it.
4 tips for preparing your own ceviche:
Be sure to use only the freshest fish, as it is prepared without heat and technically raw.
Try to keep the fish as cold as possible, and if you can, prepare it on the same day.
Cut the fish in even sizes so everything is marinated the same.
Marinate the fish for roughly 20 minutes, but don't over marinate as it may fall apart.
Get creative with your recipes! Try adding different herbs and spices to get the desired flavors, just make sure that you are having fun in the kitchen and don't be afraid to be adventurous.
Your turn to take action: Try preparing your own ceviche for dinner this week, or go to a local Peruvian or Mexican restaurant to experience what traditional ceviche tastes like.  Let me know if you like it in the comments below!
Like this post? Share it!
http://brghealth.com/brg/wp-content/uploads/2015/06/Ceviche.jpg
1600
1200
Bonnie R. Giller
http://brghealth.com/brg/wp-content/uploads/2017/12/BRG_Headerwpic_2.png
Bonnie R. Giller
2017-06-26 09:00:58
2017-06-22 17:53:24
Cool Down, Its National Ceviche Day!