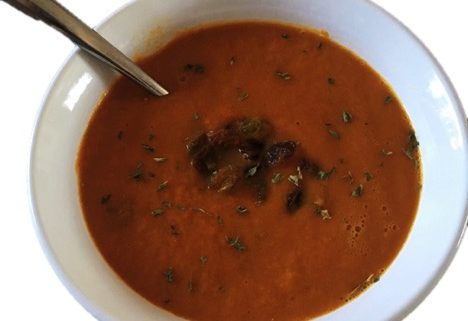 Did you know January is National Soup Month? With the winter weather in full blast, it's certainly good news if you're looking for a way to warm up. Soup is an incredibly versatile food and can be part of a meal as either an appetizer or entree.
Soup Basics
In traditional French cuisine, there are two main types of soups:
Clear soup, like bouillon and consommé. This type of soup is made by boiling aromatic vegetables (such as carrots, celery, and onions), meat bones, and water together, and then straining the mixture to leave a clear, flavorful liquid. Shells from seafood can be used as well.
Thick soup, like purees, bisques, and veloutes. The ingredients used as thickening agents classify this type of soup. Purees use starch, bisques use cream or béchamel, and veloutes use eggs, butter, and cream. These serve as bases for the soups, to which broth and other liquids and flavorings are added.
Of course, these are only the French techniques. Soups are popular across the globe and can be made with just about any ingredients you can think of.
Hot or cold?
Although most soups you find on a menu are served hot, soups can be served cold as well. Gazpacho is a Spanish cold soup consisting of a blend of pureed vegetables. Not only is it a great option when the summer months roll around again, but it's also a delicious way to get a few servings of vegetables. Next time you go out to dinner, have gazpacho as an appetizer!
Hot soups are a great way to warm up on a cold day. You can have a soup as an appetizer to warm you up before dinner, or have a hearty soup as your entrée to fill you up. Hot soups can also be in combination with other foods such as tomato soup and grilled cheese, half sandwich and half soup, or have a soup and salad together. Whatever way you have it, you won't regret it!
3 Soup Ideas
Not sure where to start your soup? Here are 3 soup ideas to get you started:
Make your own chicken noodle soup. Sauté diced carrots, onions, and celery in a tablespoon of olive oil. Add fresh or dried herbs of your choice, then add bones from leftover chicken, turkey or beef, and add water until the bones are just submerged. Simmer on low heat for about an hour and season to taste. (You can use this as a base for just about anything!) Add chopped chicken and whole-wheat noodles for a delicious homemade chicken noodle soup.
Create a vegetarian soup. Start with the veggies above and add a can of crushed or diced tomatoes, shredded cabbage, diced zucchini, or any vegetables you have in your crisper for a hearty vegetable soup. Add a rinsed and drained can of chickpeas or cannellini beans for protein. Serve with a slice of toasted bread topped with melted cheese.
Add an Asian twist. For an Asian flair, sauté scallions or leeks in sesame oil until fragrant, then add chopped baby Bok Choy and spinach, and add either your homemade or store-bought low sodium chicken or vegetable stock with a dash of soy sauce. In a separate pot, cook up a batch of soba noodles and add them to the soup just before serving. Sprinkle with black sesame seeds for garnish.
Soup may seem like an unassuming dish, but it can be the main ingredient for a deliciously tasty meal if you want it too. You can make homemade black bean soup, butternut squash soup, tomato soup, chicken noodle soup, or any of your favorite soups. You have the opportunity to put a twist on them and make it how you want it! It's the perfect time to get creative.
Keep in mind that pre-prepared soups are usually loaded with sodium so it's a great idea to make it from scratch. You can make large batches and freeze them in single serving-sized containers for a grab-and-go meal or snack. You can't go wrong with soup – especially in this weather!
Your Turn To Take Action: What can you find in your fridge to make a delicious hot soup? Let me know in the comments below.
Like this post? Share it!
http://brghealth.com/brg/wp-content/uploads/2018/01/soup-1.jpg
448
468
Bonnie R. Giller
http://brghealth.com/brg/wp-content/uploads/2017/12/BRG_Headerwpic_2.png
Bonnie R. Giller
2018-01-22 09:00:11
2018-01-16 19:20:35
Dive into Soup for National Soup Month