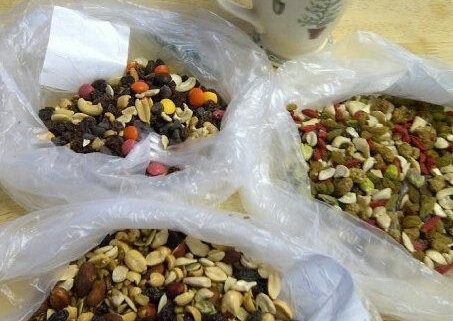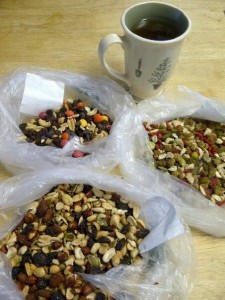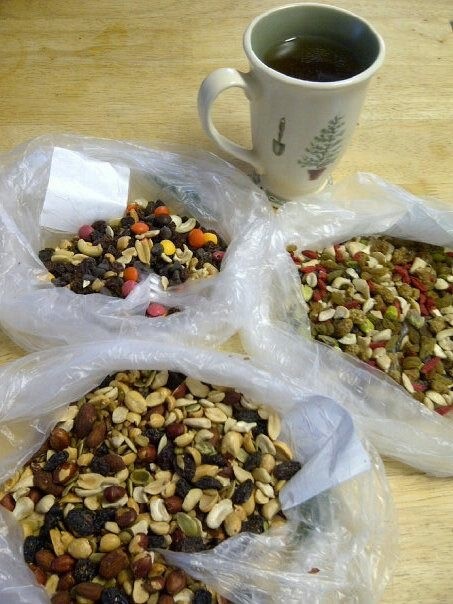 Wednesday is National Trail Mix Day! If you're like me and my team here at BRG Health, then you must love trail mix! Trail Mix isn't actually the technical term for the delicious treat, the word 'gorp' is. Gorp is often used by hikers for trail mix which stands for 'good old raisins and peanuts'; some people say it stands for "granola, oats, raisins and peanuts' which are more commonly found in mixes today. Whatever it means to you, it is the perfect grab-and-go nutritious snack for anyone anywhere because it travels well, doesn't spoil and it can provide the quick energy boost that you need.
When purchasing trail mixes, be sure you are choosing options with smart ingredients. Trail mix can be full of protein and nutrients, but it can also be high in calories and fat. Typically trail mixes contain dried fruits, nuts and seeds, and even sometimes chocolate. Dried fruits and nuts are great sources of carbohydrates and vitamins when you are working out or even when you are on a hike! Just beware of the trail mixes loaded with added chocolates, candies or sugar-sweetened dried fruit which don't offer any nutritional benefits or aide you on your hike.
Although most basic trail mixes are considered healthy, just keep an eye out on how much you are eating.  A typical serving of a leading brand is 3 tablespoons which provides approximately 160 calories, 10 grams of fat, 40 mg sodium, 12 grams of carbohydrates, and 9 grams of sugar.  It is extremely easy to mindlessly reach your hand into the bag and eat more than a serving. I mean really, who only eats 3 tablespoons of trail mix.
Here are some tips to make your own trail mix
If you don't want to eat store-bought trail mixes, you can easily make your own at home by mixing together your favorite nuts, seeds, raisins, dried fruits and bits of whole grain crackers.  Here's some smart ingredients you can put in your trail mix:
NUTS are loaded with protein, fiber, vitamin E and antioxidants. Choose unsalted and unsweetened to limit your added salt and sugar intake.
SEEDS are filled with omega-3 fatty acids along with a good dose of protein, zinc, iron, calcium, phosphorous and magnesium. Use seeds like pumpkin, sesame, flax, hemp or sunflower to shake things up.
DRIED FRUIT can be easily made at home in the oven or dehydrator with cranberries or strawberries. If you choose to buy them from the store, be aware that they are usually coated with cane sugar or juices. Find a brand that doesn't contain those extra ingredients!
WHOLE GRAINS provide a lot of fiber and can boost your energy. Use bran flakes, granola, air-popped popcorn or toasted, low-fat oats to add that crunch to your mix.
SWEETS can add more flavor to your trail mix, but be sure you keep your portions in check. You can add a few dark chocolate chips, chocolate-covered nuts or dark chocolate shavings!
Trail Mix Ideas
Are you unsure of what to add into your trail mix or what foods make the best combinations?  Try making one of these trail mixes or use them as inspiration when mixing and matching to make your own:
Dried banana, peanuts, cashews, chocolate and peanut chips
Raw almonds, chocolate covered raisins, hazelnuts and dried pineapple
Popcorn, dried peaches, sunflower seeds and almonds
Pecans, craisins, pistachios, raisins, pretzels and dark chocolate chips
Granola (low fat), cashews, craisins, sunflower seeds and dark chocolate chips
Pumpkin seeds, dried apple, pecans, walnuts and cinnamon
Chex cereal, cheerios, dark chocolate covered blueberries, cashews, raisins
Portion control: Once you make your own mix, measure out several small snack size baggies and store them in your pantry in a basket. This way, when you want a snack, you just pick up one portioned snack bag and don't have to worry about overeating!
Your turn to take action: What is your favorite homemade trail mix recipe? Leave a comment below with your recipe!
Like this post? Share it!
http://brghealth.com/brg/wp-content/uploads/2016/08/Trail-mix-2.jpg
604
453
Bonnie R. Giller
http://brghealth.com/brg/wp-content/uploads/2017/12/BRG_Headerwpic_2.png
Bonnie R. Giller
2016-08-29 09:00:17
2016-08-29 10:45:11
Get Ready to Mix it Up with Trail Mix