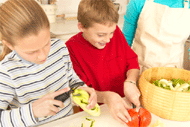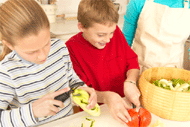 September 2016 marks the 6th anniversary of National Childhood Obesity Awareness Month. Did you know that obesity now affects 1 in 6 children and adolescents in the United States? That means more than 30 percent of our children are overweight or obese.  However, the good news is that the numbers of childhood obesity have been significantly decreasing every year since 2011.
It is important that we continue making changes in the way our children learn about health and physical activity. We want to make the world a safe, healthy and exciting environment for our children, but it is often difficult to do with so many distractions (unhealthy food options around every corner, increased use of technology, etc.).
So what can you do to decrease your child's risk for obesity and other health issues?
Serve more fruits, vegetables and whole grains whenever possible. Use My Plate with your children and educate them on the food groups and why they are good for them. Explain to them that balanced meals will give them more energy to grow big and strong!
There are so many different varieties of fruits, vegetables and whole grains. Experiment with your child by introducing a new food every week.
Ask your kids to help make lunch and dinner. Let your kids pick out a healthy recipe, go grocery shopping (with you) for the ingredients and have them help prepare the dish. They are more likely to try the new food if they are involved in the process.  Check out my Free Healthy Recipes for delicious meals and snacks.
Limit screen time. We all know how enticing electronics can be.  Who doesn't want to relax and watch some TV?  But the increase in time spent watching TV or playing video games usually leads to kids becoming less physically active. As the parent, you can teach your kids about moderation.  They can still watch TV and play video games, as long as it's followed by playing outside with a sibling, with friends, etc.
Engage in physical activity with your kids. Your kids might be more willing to get up and move if you're joining in on the fun.  Lead by example and teach them the benefits of physical activity.   Physical activity helps build their lean muscles, promotes strong bone health, and can decrease their risk of obesity. Children need at least 60 minutes of play a day.  Here are some ways you can get the whole family moving:
Go on family walks after dinner.
If you have a dog, encourage your kids to walk them or play outside with them.
Go on weekend hikes and explore new areas around your home.
Go for a bike ride.
Have a dance party!
Be a role model. You child looks up to you, so be a good role model on how to lead a healthy lifestyle. If you want your kids to eat their vegetables, then should them you do too. If you want your child to watch less TV and move more, show them you do the same. Expose your children to a variety of healthy foods so they are willing to try new things. Children look up to adults, so if you choose healthy foods and engage in physical activity daily, they'll be more likely to follow in your footsteps.
It is important to teach your child that everything they eat and drink matters. You should focus on nutrition, variety and portion size to keep them healthy.  If they take care of themselves, feed their bodies nutritious foods and engage in physical activity, they'll have a happy, healthy childhood!
Your turn to take action: How will you educate your child on living a healthy lifestyle and reduce the risk of obesity?  Let me know in the comments below.
Like this post? Share it!
http://brghealth.com/brg/wp-content/uploads/2016/09/Kids-preparing-vegetables.gif
127
190
Bonnie R. Giller
http://brghealth.com/brg/wp-content/uploads/2017/12/BRG_Headerwpic_2.png
Bonnie R. Giller
2016-09-02 09:00:59
2016-09-01 13:48:01
How to Prevent Obesity in Your Children