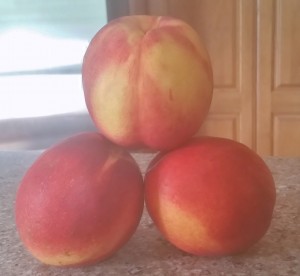 Ready to bite into a sweet, succulent and tasty piece of fruit?  Look no further and grab yourself a delicious peach!  Peaches are harvested throughout the summer and are now in their peak season, making August the last month to fully enjoy the fresh peaches. It's no wonder why August is perfect for National Peach Month!
Not all peaches are created equal.  If you are looking for something on the tartier side, go for a ripe yellow peach, as they tend to be more acidic, which gives it that tarty flavor.  If you want something that is a little sweeter, then you should try a white peach, as they are less acidic, thus resulting in a sweeter peach.
Peachy Nutrition
Peaches are packed with nutritional benefits that keep your body intact.  Some of these benefits include natural antioxidants, which help protect your cells and keep them healthy. It is also a good source of:
Vitamin C,which aside from its antioxidant benefits, helps protect and enhance your immune system.
Vitamin A, which helps to maintain your vision, bones and cell functions in a healthy state.
Fiber, which can help keep you fuller for longer.
Iron, which is important for your red blood cell formation
Potassium, which helps regulate fluid in your body, heart rate and blood pressure.
7 Ways to Enjoy Your Peaches
Don't know what to do with your peaches?  Here are some easy ways that you can enjoy them this month!
Make a smoothie– Blend with ice, Greek yogurt, milk and other fruits such as bananas and mangoes for a refreshing drink.
Grilled peaches– Cut into halves and throw them on the grill and serve or place them on skewers alongside other fresh fruit.
Salads– Add in some slices onto a salad for a sweet kick.
Peachy Salsa– Make your own salsa, dice up some peaches and mix them in or try my Papaya Peach Salsa for something different.
Peach Sorbet– Blend frozen peaches, lime juice and a hint of honey and eat as is or store in the freezer for a few hours for a firmer sorbet.
Breakfast– Its versatility allows you add them in your yogurt, oatmeal, pancakes, waffles and even cottage cheese!
Fruit salad– Cut up some slices and mix in with your choice of fresh fruits for a quick fruit salad.
Whether you mix it in your favorite food or get creative and cook with it, it'll sure add a peachy twist to any food!
Does the fuzzy skin of a peach bother you? There is still a way for you to enjoy them!!  Nectarines are peaches with smooth skins and are just as juicy.
Your turn to take action:  How will you incorporate peaches into your menus?  Let me know in the comments below!
Like this post? Share it!
http://brghealth.com/brg/wp-content/uploads/2016/08/Peach-2.jpg
1546
1683
Bonnie R. Giller
http://brghealth.com/brg/wp-content/uploads/2017/12/BRG_Headerwpic_2.png
Bonnie R. Giller
2018-08-13 09:00:58
2018-08-09 20:35:24
It's Peach Season!