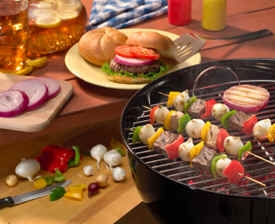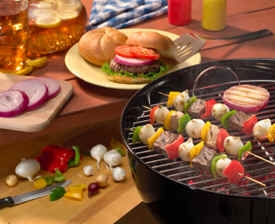 May is National Barbecue Month, and with the warmer weather finally here, there's no better time to get outside and fire up the grill! Whether you like to flash-fire your foods or cook them low and slow, there's nothing that says summer more than that smoky barbecue smell.
BBQ History
Barbecue has been a tradition in North America for hundreds of years. The Native Americans introduced Columbus to the method, and historians believe that the origin of the word barbacoa,is wherethe English word barbecue is derived. The word barbacoatranslates to "framework of sticks set upon posts," which is the traditional Native American method.
The Native Americans used green twigs, which would smoke instead of catching fire. Another version of barbacoainvolves digging a hole in the ground and placing some meat, usually a lamb or pig, above a pot to collect the drippings, then covering it with leaves and igniting it and cooking it for up to 18 hours.
Barbecue vs. Grilling
Barbecue is not the same as grilling, although the two methods are usually talked about interchangeably.
Barbecueis all about cooking foods at a low temperature using indirect heat for long periods of time. This was often used in the poor, rural south when people would let their livestock pigs run loose when food was tight, and would later hunt them for meat. The lean pigs would produce tougher meat, and the slow cooking process would break down the connective tissue, allowing tougher cuts of meat to become fork-tender.
Grilling is cooking foods over direct heat, such as an open flame, for shorter periods of time. This is often done with tender, more expensive cuts of meat, such as tenderloin. The heat is only on one side of the meat at one time, and it's cooked for a shorter amount of time at a higher temperature.
BBQ and Grilling in the 21stCentury
Today, people are barbecuing and grilling far more than just pigs! While pork is still a very popular barbecue item, you can also use a variety of other ingredients, too. Just be careful when using ingredients that contain sugar, as they will burn quickly over the direct heat!
Here are 3 meal ideas for your next BBQ
Marinate salmon steaks or fillets in a mix of soy sauce, garlic powder, and a touch of honey. Wrap in foil to make packets and cook on low heat for 15 minutes or until cooked through. Serve with whole ears of corn, which can be cooked in their husks directly on the grill!
Brush whole portabella mushroom caps with olive oil, season with salt and pepper, and place directly onto hot grill. Stuff with a mixture of sautéed zucchini, onions, and breadcrumbs and top with shredded Parmesan cheese.
Grill your dessert. Slice pineapples and watermelon, or halve peaches and plums and grill them over medium heat for 2 – 3 minutes. Remove from grill and drizzle with honey and top with orange zest.
Looking for more ideas to spice up your BBQ menu? Keep the following tips in mind!
Grill Portobello mushrooms to make a delicious and fun veggie burger.
Lay lettuce leaves on the grill to add an unexpected crunch to your burger.
Grill avocado 5-7 minutes face down to add a smoky flavor AND a boost of nutrients to your burger.
Sliced eggplant and zucchini are easily cooked on the grill and will make a delicious, crunchy side dish.
Top your burger with a grilled pineapple ring for a sweet twist.
Make grilled strawberry fruit kebobs that can be enjoyed as a tasty dessert. This will make them super gooey with a smoky flavor that will make them hard to resist.
There's lots of reasons to celebrate barbecue this month. I hope I've inspired you to spice up your traditional BBQ menu!
Your Turn To Take Action:How will you celebrate Barbecue Month? Let me know in the comments below!
Like this post? Share it!
http://brghealth.com/brg/wp-content/uploads/2018/05/bbq.jpg
224
275
Bonnie R. Giller
http://brghealth.com/brg/wp-content/uploads/2017/12/BRG_Headerwpic_2.png
Bonnie R. Giller
2018-05-14 09:00:39
2018-05-13 20:25:08
It's Time to BBQ!