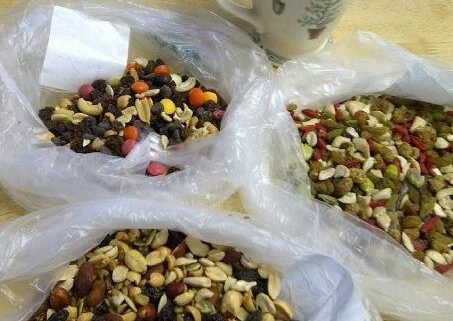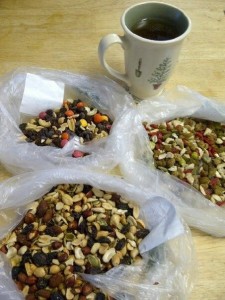 Lightweight, nutritious, energy boosting… trail mix is the ideal snack! This Thursday, August 31st is National Trail Mix Day, and it is one of my favorites!
Trail mix comes in a variety of ways, but the most common combination is a mixture of nuts, dried fruits, and sometimes chocolate. Traditionally, as the name implies, trail mix was meant for trails. It was seen as the ideal snack to take on a long hike because it is lightweight, and can offer a much-needed energy boost after spending a few hours out on the trail.
Today, with growing popularity, trail mix has made its way into everyday life. It is often enjoyed as a quick snack while in the office, or running to and from meetings, and is the perfect pick me up you might be looking for.
Trail Mix Nutrition
Trail mix offers a unique and powerful combination of nutrients. The combination of nuts and dried fruit offer a unique combination of healthy fats, fiber, protein and a host of vitamins and minerals dependent on the specific ingredients you are using.
The high protein content can help nourish your body for those long hikes or long days at work. The combination of healthy fats, specifically high omega-3 and omega-6 fatty acids, and fiber offer a high satiety combo. This will help you feel full longer, helping to keep you nourished all day long!
Make Your Own Mix
There are many ways to celebrate National Trail Mix day, but one of the best ways is to make your own trail mix! Use the following steps as a guide to help you make your own. Remember, trail mix can be made however you'd like, so feel free to skip a step or add something else you enjoy.
Start with a nutritious mix of nuts, most popularly, cashews, almonds, and pistachios.
Add seeds- try hemp seeds, pumpkin seeds, sesame or flax seeds.
Mix in dried fruit, but try avoiding dried fruit with a lot of added sugar.
Add some of your favorite grains such as plain Cheerios for an added crunch and heart healthy whole grains
Curb your sweet tooth by adding something sweet. Try adding some dark chocolate for a truly delicious flavor and the added benefit of magnesium!
Here are a few other ideas that you can mix and match to help you create your own trail mix.
Dried banana, cashews, peanuts, and chocolate and peanut chips.
Popcorn, almonds, dried peaches, and sunflower seeds.
Pumpkin seeds, dried apple, pecans, walnuts, and cinnamon.
Chex cereal, Cheerios, dark chocolate covered blueberries, cashews and raisins.
There are limitless options when it comes to trail mix. You can get creative and mix and match recipes to match your desired flavor. Be sure to start with the base of nuts, seeds and fruits and then get creative from there. One thing is for sure, learning to make easily portable trail mix can be one of your greatest healthy allies!
Your turn to take action: What will you use to make your own trail mix? Let me know the list of your ingredients in the comments below!
Like this post? Share it!
http://brghealth.com/brg/wp-content/uploads/2015/08/Trail-mix-2.jpg
604
453
Bonnie R. Giller
http://brghealth.com/brg/wp-content/uploads/2017/12/BRG_Headerwpic_2.png
Bonnie R. Giller
2017-08-28 09:00:56
2017-08-08 12:27:10
Mix It Up on National Trail Mix