Roasted Apple and Butternut Squash Salad with Olives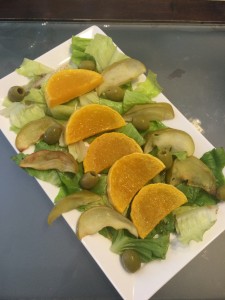 Recipe by Charna Sheinfeld, Nutrition Intern
Ingredients:

Salad:
1 medium Butternut Squash, peeled, seeded, and sliced into half inch planks
2 medium Granny Smith Apples, sliced into half inch planks
4 cups chopped romaine lettuce (or any other green of your choice)
1/2 cup pitted green olives
Dressing:
2 tablespoon olive oil
4 tablespoon Balsamic vinegar
1 tablespoon Maple syrup
Dash of salt
Dash of pepper
Instructions: 
Preheat oven to 425° F.
Place Butternut Squash and apple slices on a greased baking sheet.
Spray generously with nonstick pan.
Roast for 10 minutes.
Remove the apple slices.
Flip the squash slices and continue roasting another 20-25 minutes until the squash is tender.
Set aside squash and apples to cool slightly.
Mix ingredients for salad dressing.
Add Butternut Squash, roasted apples, and olives in a large bowl.  Drizzle with dressing.  Alternatively you can divide the ingredient amongst individual salad bowls.
Serving Size: 1 cup
Yield: 5 servings
Nutrition Facts: 
Calories: 200
Total Fat:  8 gm
Saturated Fat: 1 gm
Monounsaturated Fat: 6 gm
Polyunsaturated Fat: 1 gm
Cholesterol: 0 mg
Protein: 2 gm
Carbohydrate: 32 gm
Dietary Fiber: 6 gm
Sodium: 290 mg
Bonnie R. Giller, MS, RD, CDN, CDE  • BRG Dietetics & Nutrition, P.C.
brghealth.com • (516) 486-4569