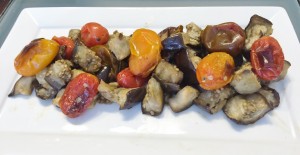 Recipe by Charna Sheinfeld, Nutrition Intern
Ingredients:

2 small eggplants, unpeeled, and chopped into 1 inch cubes (approx. 2 lbs.)
1 pint heirloom cherry tomatoes*
1 teaspoon + 1/2 teaspoon salt
2 tablespoons + 1 teaspoon olive oil
1/2 teaspoon dried oregano
3 tablespoons red wine vinegar
2 cloves garlic, minced
Black pepper to taste
*Note: you can use cherry tomatoes if you can't get the heirloom.  The various heirloom tomatoes add color and flavor.
Instructions: 
Place eggplant pieces in a colander and sprinkle with 1 teaspoon salt, tossing to coat evenly.  Let sit for 30-45 minutes, tossing once after 20 minutes.  Once beads form on the surface of the eggplant, and some liquid drained out, remove and place on paper towels.
Preheat oven to 425 degrees F.
Spread the eggplant on a baking sheet together with the cherry tomatoes.  Sprinkle with 1 teaspoon olive oil, oregano, and 1/2 teaspoon salt.
Roast eggplant and tomatoes for 30-40 minutes, stirring every 10-15 minutes.
Allow to cool for 5-10 minutes.
Mix remaining olive oil, red wine vinegar, garlic cloves, and black pepper together and toss over eggplant and tomatoes.  Serve warm or room temperature.
Serving Size: 1/2 cup
Yield: 16 servings
Nutrition Facts: 
Calories: 35
Total Fat:  2 gm
Saturated Fat: 0 gm
Monounsaturated Fat: 1.5 gm
Polyunsaturated Fat: 0 gm
Cholesterol: 0 mg
Protein: 0 gm
Carbohydrate: 4 gm
Dietary Fiber: 2 gm
Sodium: 220 mg
Bonnie R. Giller, MS, RD, CDN, CDE  • BRG Dietetics & Nutrition, P.C.
brghealth.com • (516) 486-4569
Like this post? Share it!
http://brghealth.com/brg/wp-content/uploads/2016/07/Roasted-eggpland-and-tomato-salad-3.jpg
1681
3248
Bonnie R. Giller
http://brghealth.com/brg/wp-content/uploads/2017/12/BRG_Headerwpic_2.png
Bonnie R. Giller
2016-07-05 11:00:18
2016-06-30 16:39:43
Roasted Eggplant and Heirloom Tomato Salad