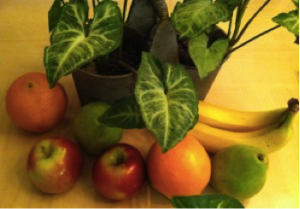 The cold weather doesn't mean that you can't enjoy fresh fruits and vegetables. Did you know that there is actually some produce that is in season during these chilly months? Buying in season produce not only ensures that you are eating foods at their ripest, but it saves money as well.
Here are 6 of my favorite winter fruits and vegetables and the great health benefits they provide!
Fruits
Apples: Apples are probably one of the most popular fruits, and rightfully so! They can be very versatile, whether you are enjoying them in a dish or by themselves. They are an excellent source of fiber, with one medium apple providing 4 grams. Snacks that are high in fiber help you to feel fuller longer, and also aids in promoting a healthy digestive tract. Add an apple with peanut butter as a mid-day snack that'll leave you satisfied until your next meal!
Bananas: This potassium-packed fruit is the perfect snack for someone on the go. One medium sized banana provides 422mg of potassium, which is vital for heart health and muscular function. Spread peanut butter on whole-wheat toast and top with banana slices and cinnamon for a delicious breakfast that'll also satisfy your sweet tooth!
Grapefruit: This sweet yet tart fruit is an excellent accompaniment to your morning cereal or oatmeal. A medium sized grapefruit contains about 88mg of vitamin C, which is crucial for optimal immune functioning. This makes it a great fruit to incorporate into your diet as we head into cold and flu season. Grapefruit goes great as a side to cereal (hot or cold) in the morning!
Vegetables
Beets: This colorful vegetable is great to brighten up any salad. Try pairing it with fresh spinach, quinoa, and goat cheese. It's high in iron, magnesium, fiber, and potassium, which are crucial for protecting against cardiovascular disease and providing energy. Add beets to a spinach salad and top with goat cheese and walnuts for a delicious meal.
Brussel sprouts: One cup of Brussel sprouts provides 37mg of calcium, which is essential for healthy bones, muscle contractions, and cell metabolism. These can be served in so many ways! Roasted Brussel sprouts make a great side dish to pair with any of your lean protein favorites.
Potatoes: The cold months make us crave warm, hearty comfort foods. What better vegetable to add to your stew than potatoes? Potatoes contain thiamin, which helps the body to make energy, and copper, which helps the body to fight against free radicals and protects cells. Chop up red potatoes, sauté until crispy and have them with your eggs in the morning or favorite learn protein at dinner. Either way, it'll be a delicious meal!
Even in the winter months, you can still incorporate plenty of fresh fruits and vegetables into your meals. You may just have to think outside the box a little! This can also be the perfect time to experiment with new fruits and vegetables that you otherwise wouldn't have tried.
Your turn to take action: How will you incorporate these fruits and vegetables into your meals at home? Let me know in the comments below!
Like this post? Share it!
http://brghealth.com/brg/wp-content/uploads/2017/12/fruit.png
244
350
Bonnie R. Giller
http://brghealth.com/brg/wp-content/uploads/2017/12/BRG_Headerwpic_2.png
Bonnie R. Giller
2017-12-18 09:00:31
2017-12-13 20:36:25
Winter Fruits and Vegetables