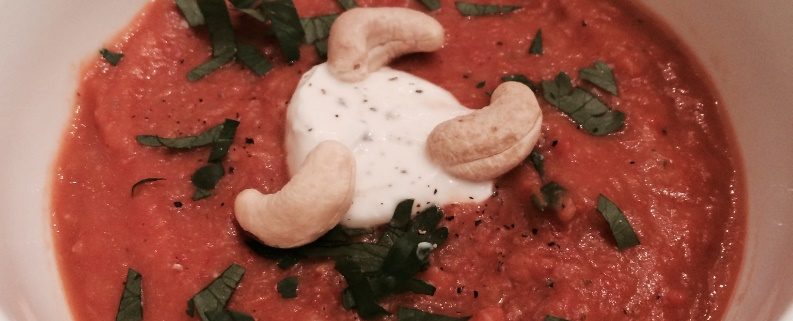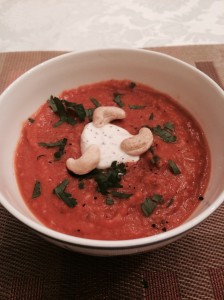 Recipe by Charna Sheinfeld, Nutrition Intern
Serves 4

Ingredients:

12 plum tomatoes
1 tsp. salt
1/4 tsp. black pepper
2 heads garlic
2 tbsp. olive oil, divided
1 medium onion
1 tsp. tomato paste
1/2 cup low sodium vegetable stock
1 tsp. brown sugar
1 tsp. dried oregano
2 Bay leaves
1 cup fresh basil leaves, packed
2 tbsp. Greek 0% plain yogurt
Chopped basil, for garnish
Cashew or pine nuts, for garnish
Instructions:

Preheat oven to 450 degrees F.
Core tomatoes and slice in half. Arrange cut side up on a baking sheet. Spray with olive oil non-stick spray. Sprinkle with salt and pepper.
Cut off the top of the two garlic heads and sprinkle with 1 tbsp. olive oil. Wrap tightly with aluminum foil.
Put tomatoes and wrapped garlic on a baking sheet and bake in preheated oven for 30 minutes.
Turn over tomatoes and spray again with non-stick spray. Sprinkle with salt and pepper. Return to the oven (along with garlic) for another 30 minutes.
Meanwhile, slice the onion and saute in a pot until golden brown. Add tomato paste and cook for another 1-2 minutes.
After the tomatoes and garlic finish roasting, squeeze out the garlic cloves from their peel. They should come out easily.
Put roasted tomatoes, with all their roasting juices, and the roasted garlic in the pot with the onions.
Add vegetable stock or water, brown sugar, oregano and Bay leaves.
Bring to a boil and cook on a medium-low flame for 25 minutes.
Chop the fresh basil and add to the soup. Cook for an additional 5 minutes. Remove Bay leaves.
With an immersion blender, blend the soup until smooth.
Garnish with a dollop of Greek yogurt, chopped basil and cashews or pine nuts.
Serving Size: 3/4 cup
Nutrition Facts:
Calories: 140
Total Fat: 7 gm
Saturated Fat: 0.5 gm
Monounsaturated Fat:  5 gm
Polyunsaturated Fat: 0.5 gm
Cholesterol: 0 mg
Protein: 5 gm
Carbohydrate: 16 gm
Dietary Fiber : 1 gm
Sodium: 600 mg
Bonnie R. Giller, MS, RD, CDN, CDE  • BRG Dietetics & Nutrition, P.C.
brghealth.com • (516) 486-4569
Like this post? Share it!
https://brghealth.com/brg/wp-content/uploads/2014/10/Creamy-Roasted-Tomato-and-Garlic-Soup.jpg
1058
793
Bonnie R. Giller
http://brghealth.com/brg/wp-content/uploads/2017/12/BRG_Headerwpic_2.png
Bonnie R. Giller
2014-10-07 09:30:27
2014-10-06 19:38:19
Creamy Roasted Tomato and Garlic Soup