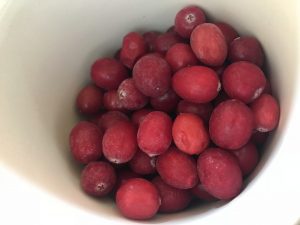 Did you know that October is National Cranberry Month?  As the holidays are approaching, cranberries are often used in various traditional recipes, which makes nowa great time to learn more about the delicious cranberry!
You maythink of cranberries as just a simple, sweet and tarty fruit that you eat during Thanksgiving as a sauce, consume as a cocktail juice or as a small dried snack, but it is beyond a flavorful fruit. Cranberries are often underrated – this fruit is more nutrient-packed than you would think!  It is loaded with health benefits that will help keep your body strong and healthy.
Benefits Galore
Cranberries are filled to the top with nutrients!They are packed with fiber, which keeps your hunger and blood sugar in check, as well as aiding in digestion.  It is also filled with many vitamins and minerals that play a role in the following benefits:
Prevention of cell damage by antioxidants
Keeps your immune system healthy.
Has a bacteria-blocking benefit that promotes urinary tract health.
Promotes heart health.
Decrease inflammation that is associated with chronic diseases.
Decrease the risk of cancer.
Selection & Storage
Have you ever brought fresh cranberries from the grocery store before (vs. canned)?
When selecting your cranberries look for plump, firm and shiny ones.  Avoid those that are soft to the touch, shriveled and have brown spots. Once you've picked the best cranberries, you can store them in a plastic bag in the fridge for up to 2 months.  For longer storage, keep in the freezer.
 8 Meal and Snack Ideas
Now that you know more about cranberries, how are you going to incorporate them into your meals?
Here are 8 tips on how you can enjoy them beyond the holidays:
Add fresh or dried cranberries in your oatmeal or yogurt for an added hint of tartness.
Blendfrozen cranberries with other berries/fruit of your choice for a perfect smoothie
Make your own cranberry sauce at home from scratch!
Mix fresh or dried cranberries with dark chocolate and your choice of nuts (peanuts, walnuts, cashews, almonds)for a homemade trail mix.
Add them into your muffin batter for delicious twist to your muffin.
Top your favorite salad with a sprinkle of cranberries for a delicious tartness/sweetness that hits the spot.
Make my BRG recipe for a delicious snack:Baked Pears with Toasted Almonds and Cranberries
Eat as is! If you prefer them a little softer, cook them in water for 10 minutes and enjoy.
Cranberries are a versatile fruit that can be eaten and enjoyed in various ways.  Don't be afraid to get creative and experiment with different food ideas.  Your body will reap the benefits!
Your turn to take action:  How will you incorporate cranberries into your meals? Let me know in the comments below!
Like this post? Share it!
http://brghealth.com/brg/wp-content/uploads/2018/10/IMG_7204.jpg
3024
4032
Bonnie R. Giller
http://brghealth.com/brg/wp-content/uploads/2017/12/BRG_Headerwpic_2.png
Bonnie R. Giller
2018-10-22 09:00:16
2018-10-18 19:11:59
National Cranberry Month is Here!