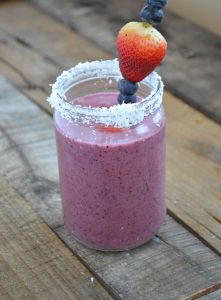 When you think of a smoothie, do you associate it with summertime?  Is it because it's a cold drink?  That doesn't have to be the case!  Smoothies can be enjoyed year round and are a perfect way for you to incorporate more fruits and vegetables throughout the day!
Smoothie Steps
Making your own smoothie is a very simple process.  Here are the 4 "ingredients" to keep in mind when you are making your smoothie:
Liquid. Liquid ingredients can be water, milk, soymilk, almond milk, yogurt or 100% fruit juice. Each ingredient will give you a slightly different texture, but all will make a delicious smoothie.
Frozen. Ice, frozen fruit or vegetables or frozen yogurt can act as your frozen ingredient.
Fresh. Fresh fruits and vegetables are your fresh ingredients. You can do a combination of fresh and frozen fruits and vegetables!
Extra. Peanut butter, protein powder, chia seeds, spices, etc. are all considered "extras" in your smoothie. This list can be endless; it's all up to you!
Once you have combined your ingredients in your blender, start blending together at a slow speed.  Gradually increase the speed and blend until your reach your desired consistency.
Always be sure to add your liquid ingredients first to avoid air bubbles from forming and to let everything mix well!
Smoothie Tips
When it comes to making your own smoothie, it all comes down to your preferences.  But, if this is your first time making your own smoothie, I have a few tips for you.
Aim for ¼ to 1/3 cup of liquid per cup of solid ingredients. This is just a suggestion, but a good place to start for your first smoothie!
Greek yogurt will give your smoothie a better consistency than regular yogurt because of its texture.
Use unsweetened or plain yogurt and milk in your smoothie. If you use flavored ones, your smoothie can become too   However, vanilla flavored yogurt or almond milk can work without being too sweet.
The more ice you add, the chunkier your smoothie will be. Too much ice or frozen fruit can turn your smoothie into a sorbet, which is still delicious, but you'll have to use a spoon!
Types of Smoothies
Do you need some help coming up with ingredients to make your own smoothie?   Use the following ideas for inspiration!
Strawberry-banana smoothie made with yogurt and milk; add honey and cinnamon
Blackberry, raspberry and strawberry smoothie made with milk and ice
Frozen peach, mango and banana smoothie made with yogurt and ice
Banana smoothie made with milk; add peanut butter and cocoa powder
Pineapple and kale smoothie made with coconut milk
Try this exclusive BRG recipe – Berry Chia Smoothie
Don't be afraid to be adventurous with your smoothie.  You'll be surprised to learn what tastes good together!
Your Turn to Take Action:  What kind of smoothie will you try this week?  Let me know in the comments below!
Like this post? Share it!
http://brghealth.com/brg/wp-content/uploads/2017/01/Frosty-beverage-July-4.jpg
4179
3072
Bonnie R. Giller
http://brghealth.com/brg/wp-content/uploads/2017/12/BRG_Headerwpic_2.png
Bonnie R. Giller
2017-01-27 09:00:10
2017-01-19 10:38:09
Summertime Isn't the Only Time for a Smoothie